College coaches have full access to EventBeacon free of charge, providing access to recruiting profiles of student-athletes attending recruiting events across the country. These profiles contain information a coach may need while recruiting on-site, allowing them to find the student-athletes that best fit their program.
All student athletes in the EventBeacon app will already have a SportsRecruits profile that is visible to you. This means that if on-site you want to know any relevant information about them, all you need to do is tap their profile. To reach their profile, follow these steps:
Log into the EventBeacon App

Tap into the event of your choice

Scroll over to the 'Athletes' tab next to 'Games'

Scroll or search for the student-athlete whose profile you want to view

Tap that student-athletes name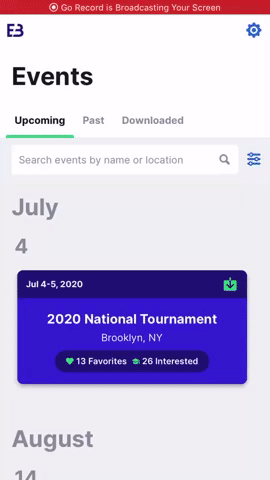 Once on their page, you have full access to any information you may need to accurately evaluate them at the event, including any video highlights they may have previously uploaded, academic information, or athletic statistics.
Note: If a coach is accessing EventBeacon online, they will see the athlete's videos. If they are offline, they do not have the ability to stream video.

Why EventBeacon?
EventBeacon provides a superior event experience for both coaches and event administrators alike while empowering student-athletes to take control of their recruiting experience. With access to all relevant student-athlete recruiting information in the app, coaches are able to efficiently and effectively evaluate players on-site. Similarly, event administrators are able to utilize the software to generate a coaches book in seconds, while also being able to make any roster or event changes immediately visible to coaches. The more efficient the coach's experience, the more exposure for athletes, and the more exposure for athletes, the more successful an event. Available in the app store today!
Download in the Google Play Store
Download in the Apple App Store