EventBeacon provides access to recruiting profiles of student-athletes attending recruiting events across the country. In addition to player information, event administrators are able to update field and roster changes, keeping coaches informed throughout the event.
Player schedules allow you to know where any player you may be interested in will be throughout an event, which then allows you to be more efficient with your time. Because EventBeacon allows our event partners to update any changes immediately through the app, you can be assured that all player scheduling information is up to date and accurate.
To view a player's schedule, first navigate to their profile page. Once there, tap the 'Schedule' tab next to the 'Evaluation' tab. From there, you will be able to see every game they are scheduled to play with the specific dates, times, and fields.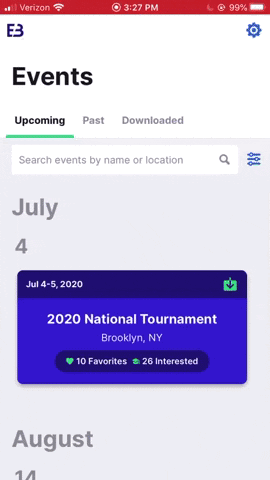 Why EventBeacon?
EventBeacon provides a superior event experience for both coaches and event administrators alike, while also empowering student-athletes to take control of their recruiting experience. With access to all relevant student-athlete recruiting information in the app, coaches are able to efficiently and effectively evaluate players on-site. Similarly, event administrators are able to utilize the software to generate a coaches book in seconds, while also being able to make any roster or event changes immediately visible to coaches. The more efficient the coach's experience, the more exposure for athletes, and the more exposure for athletes, the more successful an event. Available in the app store today!
Download in the Google Play Store
Download in the Apple App Store