EventBeacon offers a seamless integration with TM2Sign, a popular event management software. Link your events in TM2Sign to EventBeacon and allow game schedules and roster data to flow effortlessly into the EventBeacon App for college coaches. The integration allows for these updates to be automatic and in real time. In other words, any changes you make to your event in TM2Sign will be immediately reflected in EventBeacon for college coaches!
What data flows from TM2Sign to EventBeacon?
The EventBeacon TM2Sign integration allows all relevant team, roster, and schedule data from TM2Sign to update in real time in EventBeacon, offering coaches a free, up-to-date sideline evaluation tool. The following information will flow into the app as soon as you toggle on the integration. Anytime changes are made in TM2Sign, those changes will be reflected immediately in EventBeacon.
Team Information
Team Contact Information

Team Coach Name, Email, Phone Number, etc

Roster Data

Athlete Name, contact information, graduation year, position, jersey number, etc.

Game Schedule

Game time, date, location, team names
How do I connect TM2Sign to EventBeacon?
Setting up EventBeacon is as simple as a single click!
Login to your TM2Sign account.

Navigate to the events page.

Find the event for which you'd like to offer EventBeacon.

Turn on the EventBeacon module for this event. Find the corresponding toggle in the first column labeled "Team Eventbeacon".

If this is your first time using the integration, you'll be asked to connect your EventBeacon account. Simply enter your username and password. Click "Connect to TM2Sign." Then click "Redirect me back to TM2Sign."

Ensure the EventBeacon is toggle is set to on, or green.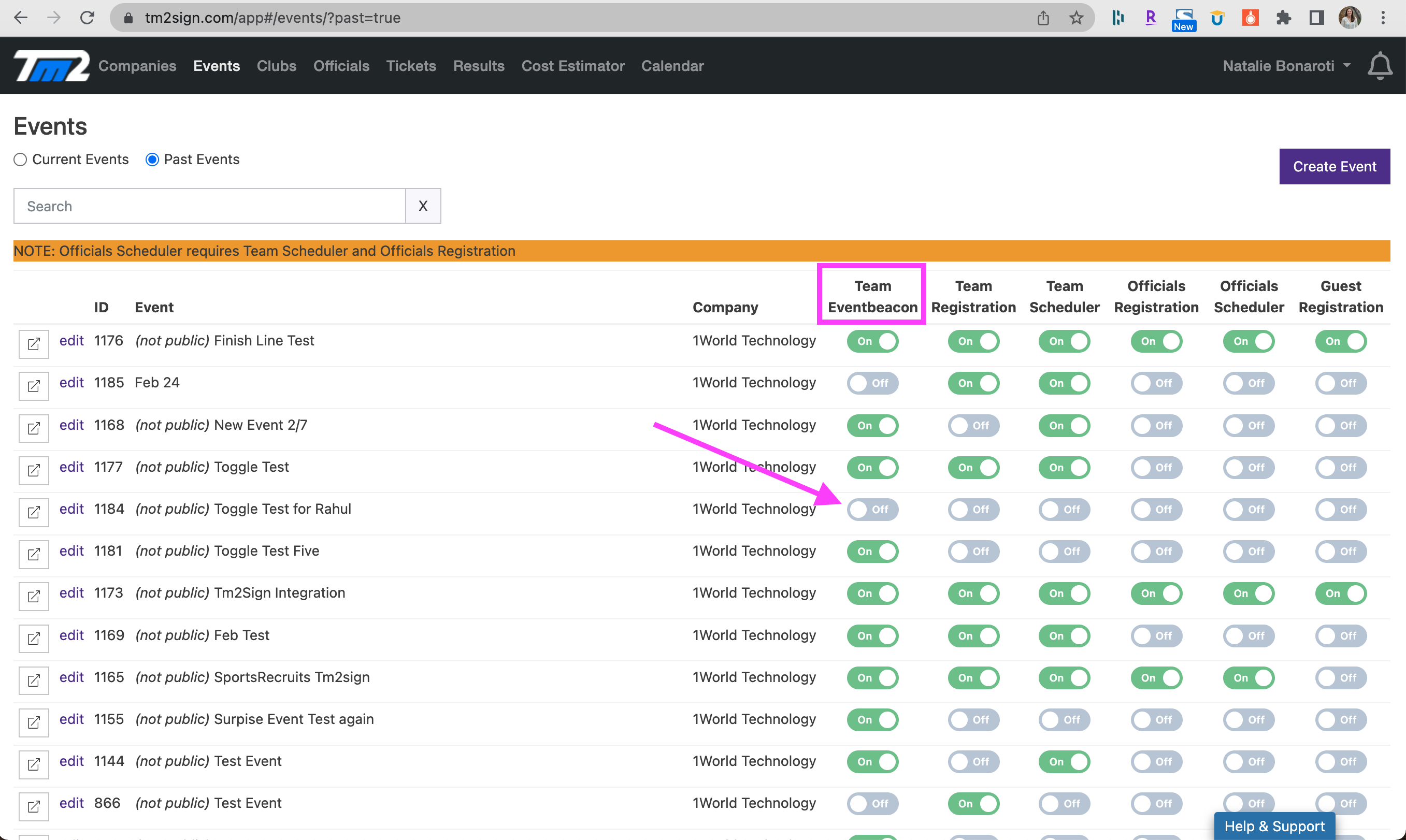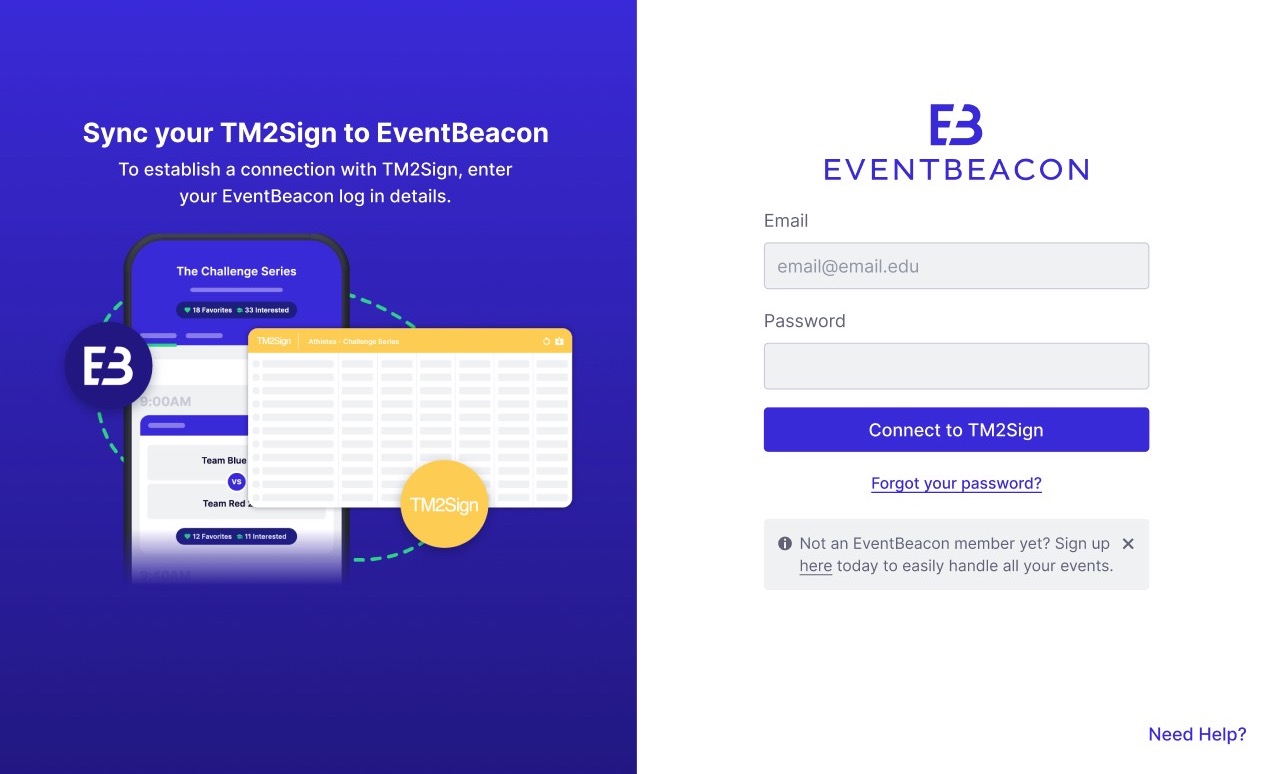 What if I am not yet setup on EventBeacon?
No problem, we can get you setup in no time! Just reach out to our team at help@eventbeacon.com.
Will college coaches have to pay for EventBeacon at my event?
No! EventBeacon is completely free of charge for college coaches to use. There is no expense to them or their program to access player data and schedules in EventBeacon.
Why EventBeacon?
EventBeacon provides a superior event experience for both coaches and event administrators alike, while also empowering student-athletes to take control of their recruiting experience. With access to all relevant student-athlete recruiting information in the app, coaches are able to efficiently and effectively evaluate players on-site. Similarly, event administrators are able to utilize the software to generate a coaches book in seconds, while also being able to make any roster or event changes immediately visible to coaches. The more efficient the coach's experience, the more exposure for athletes, and the more exposure for athletes, the more successful an event. Available in theapp store today!
Download in the Google Play Store
Download in the Apple App Store