The EventBeacon Rostering Tool allows teams and athletes to roster for an event. Once an athlete rosters for an event, they will show up in the event admin system and on EventBeacon.
This article will detail how an acceptable roster must be formatted, and what the accepted values are for each column on your spreadsheet.
Formatting Your Roster
There is specific data and corresponding acceptable fields that you will want to include on your roster. Fields marked with a (*) are required in order for the file to be accepted:
Required Columns:

First Name (Athlete)

*

Last Name (Athlete)

*

Athlete Email

*

Grad Year

*

Jersey

*

Optional Columns:

Position

Guardian 1 Email

Guardian 2 Email

Phone Number

Committed?
Note: Make sure there are no extraneous rows above your column headers or between student-athlete rows.
If you receive errors after uploading your file, you are able to click on the red 'X Error(s)' button to see exactly which rows need to be corrected.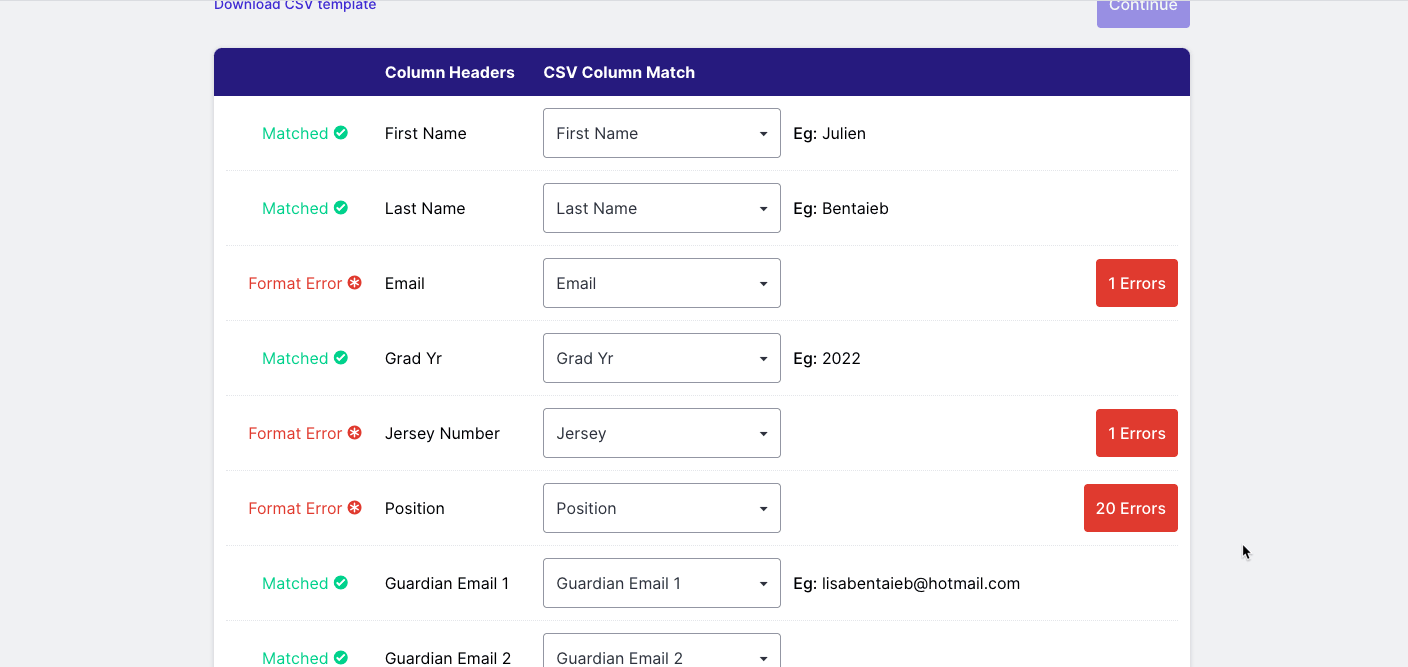 Accepted Values
Grad Year
2023

2024

2025

2026

2027

2028

2029

2030
Jersey Number
Positions: Please only input one position value per athlete. Student-athletes can add additional positions via their SportsRecruits profiles.
Position (Soccer):
Forward

Midfield

Defense

Goalkeeper
Position (Lacrosse):
Attack

Midfield

Defense

Goalie

Long Stick Midfield

Face Off Specialist
Position (Softball/Baseball)
1B

2B

3B

SS

C

P

CF

RF

LF

INF

OF

UTL
Position (Volleyball)
Defensive Specialist

Libero

Middle Blocker

Opposite / Right Side

Outside Hitter

Setter
Committed?
Why EventBeacon?
EventBeacon provides a superior event experience for both coaches and event administrators alike, while empowering student-athletes to take control of their recruiting experience. With access to all relevant student-athlete recruiting information in the app, coaches are able to efficiently and effectively evaluate players on-site. Similarly, event administrators are able to utilize the software to generate a coaches book in seconds, while also being able to make any roster or event changes immediately visible to coaches. The more efficient the coach's experience, the more exposure for athletes, and the more exposure for athletes, the more successful an event. Available in the app store today!