The EventBeacon Rostering Tool allows teams and athletes to roster for an event. Once an athlete registered for an event, they will show up in the event admin system and on EventBeacon. Event Administrators, club coaches, and athletes are provided with a streamlined, hassle-free way to roster for events that are partnered with EventBeacon.
When you click into your event rostering link, there will be a main landing page. From here, you will be able to either import your team(s) from SportsRecruits or upload a roster CSV file, depending on whether your club is a SportsRecruits member.
If you are a club coach or director at club that is integrated SportsRecruits: Click the "Yes" button and follow the steps below.
If you are a team parent and do not have a SportsRecruits account with club staff access, or your team is not integrated on SportsRecruits, click the "No" button and follow the steps outlined here.
Once uploaded, you will have full control over any changes to player information, which will be immediately visible to coaches through the EventBeacon app.
Rostering Your Team for an Event
As a staff member of a club integrated with SportsRecruits, rostering your team for an event is easy! After logging into your account via the event rostering link, you are able to import club teams and individual players using the search bar.
Simply type in the name of the team or athlete you want to add, and click the "+Add" button next to their name.

You may also roster your athletes by uploading a CSV file. To do so, download this CSV template file to create a comprehensive list of your athletes. Upload your completed file, and match your columns with the tables and review errors if necessary. Continue re-uploading your roster by hitting the back arrow until no errors remain.

Once you have imported all desired teams/athletes and made any necessary edits, review the roster once more and click the "Submit Roster" button to submit.

You will then be prompted to review your roster one final time, as you will not be able to edit this after submitting.

When you are ready, hit the "Submit Roster" button again to submit.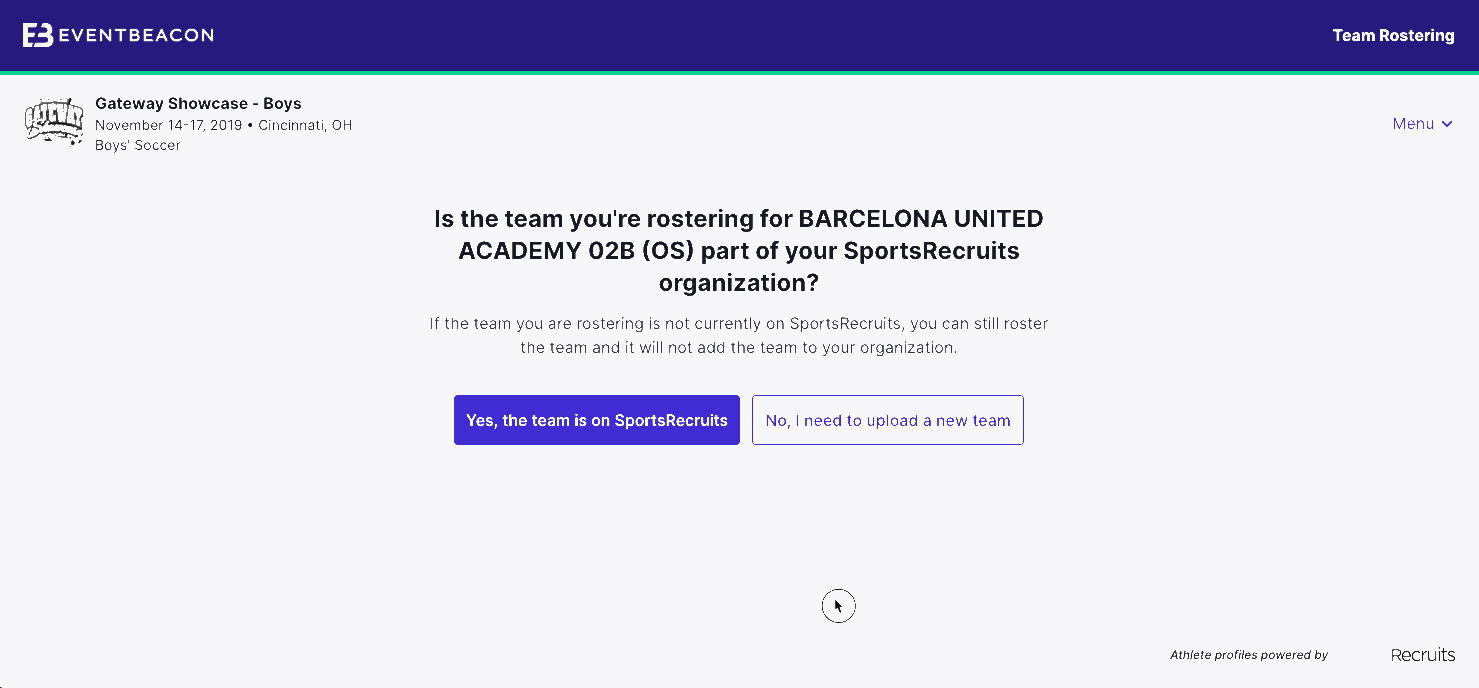 Adding Additional Athlete(s)
When importing a team from SportsRecruits, you are still able to make changes to individual athletes on the roster. To edit an imported athlete's jersey and position, click the edit and dropdown icons respectively to make these changes. To add additional athletes not on the imported team, simply type their name in the search bar and click the add button. To remove athletes from the roster, click on the trash can icon on the right hand side of that player's information line.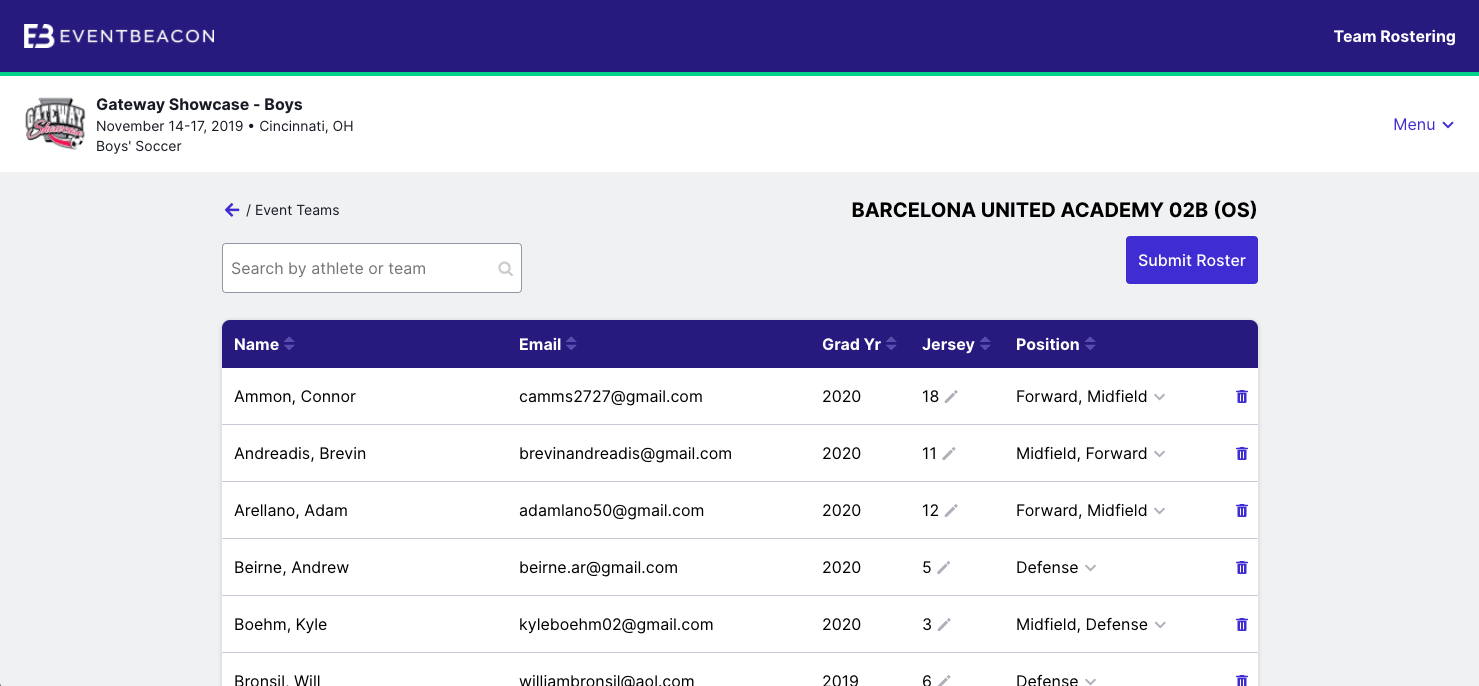 Coaches Books and Athlete Lists
Creating a coaches book, in addition to being incredibly time consuming when done manually, is often outdated soon after (or even before) an event starts, as roster/location/scheduling changes are common. With EventBeacon, all athlete information is pulled from players' SportsRecruits profiles and verified by us to make sure it is accurate and up-to-date. This means that players are able to edit the information on their profile as many times as they'd like before an event, and these changes will be updated and reflected in the coaches book in real time.
If you have any issues rostering your team, please email us at help@eventbeacon.com, and we would be happy to help you!
Why EventBeacon?
EventBeacon provides a superior event experience for both coaches and event administrators alike, while empowering student-athletes to take control of their recruiting experience. With access to all relevant student-athlete recruiting information in the app, coaches are able to efficiently and effectively evaluate players on-site. Similarly, event administrators are able to utilize the software to generate a coaches book in seconds, while also being able to make any roster or event changes immediately visible to coaches. The more efficient the coach's experience, the more exposure for athletes, and the more exposure for athletes, the more successful an event. Available in the app store today!