EventBeacon provides college coaches access to recruiting profiles of student-athletes attending recruiting events across the country. By providing real time updated rosters and field changes, coaches can stay informed throughout the event about where student-athletes they are interested in will be playing.
EventBeacon provides a number of tools to help coaches manage their time efficiently while at events. Three features in particular, the player schedule, favorited and interested athletes, and event details, provide you with the necessary information to decide which games you should attend to see the athletes you are interested in.
Event Details
All events listed in our app contain information on the dates, times, and locations of each game.
Favorited and Interested Athletes
You are able to immediately see how many of your "favorited" and "interested" athletes are going to be in attendance on each event's home page. If you click into any given event, every athlete on the event roster is provided along with their recruiting profile. Games can be filtered down so that you are able to prioritize which games to attend and you can search athletes by name or jersey number.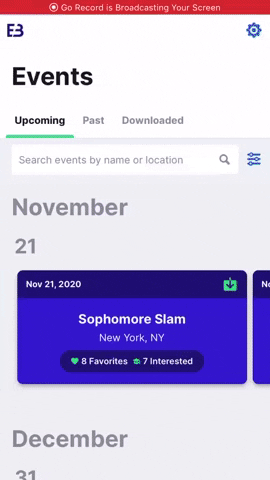 To learn more about event information, click here.
For more information about the difference between "Favorited" & "Interested" athletes, check out this article.
Player Schedule
If there are specific players that you are interested in evaluating, you can easily find out where they are playing by looking at their schedule. Each player's schedule will have updated information about their game dates, locations, and times.
For instructions on how to view this feature, check out our article, "Player Schedules".
Why EventBeacon?
EventBeacon provides a superior event experience for both coaches and event administrators alike, while also empowering student-athletes to take control of their recruiting experience. With access to all relevant student-athlete recruiting information in the app, coaches are able to efficiently and effectively evaluate players on-site. Similarly, event administrators are able to utilize the software to generate a coaches book in seconds, while also being able to make any roster or event changes immediately visible to coaches. The more efficient the coach's experience, the more exposure for athletes, and the more exposure for athletes, the more successful an event. Available in the app store today!
Download in the Google Play Store
Download in the Apple App Store