EventBeacon lets coaches evaluate players at events more efficiently by providing them access to the recruiting profiles of student-athletes in attendance. EventBeacon pulls its player information from SportsRecruits, so that when coaches create a list of their "favorite" recruits, that list will live on both EventBeacon and SportsRecruits.
This list compiles every student-athlete who has either expressed interest in your program as well as the student-athletes you or a member of your staff has "favorited" from a given event. To read about the difference between "favorite" and "interested" athletes, check out our article, "What's the Difference Between "Favorite" and "Interested" Athletes?".
To access your "Favorited and Interested Athletes" list on the app, follow these simple steps:
Login to your account through the app

Click on the event whose student-athletes you wish to view

Click the dark blue bar directly below the event's location. (Note: It will list how many "favorite" & "interested" athletes are playing in this event next to the heart and graduation cap icons)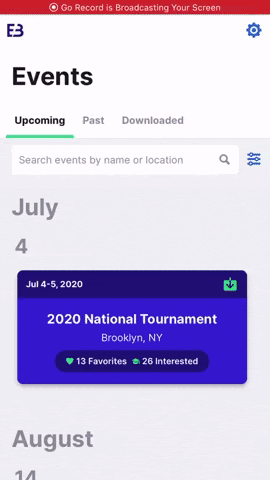 Once you have navigated to this page, your list will be organized as follows:
Your "favorite" athletes who have expressed interest in your program

Your "favorite" athletes who have not yet expressed interest in your program

Athletes who have expressed interest in your program but you have yet to "favorite"
Each player on this list can be clicked on and you will be taken to their player profile, which contains any information that may be relevant to you during your evaluation. You can learn more about player profiles by clicking here.
Note: Each list is unique to the event that you are viewing, however, if you wish to see your entire list of "favorite" and "interested" athletes you can do so on your SportsRecruits profile. The student-athletes you favorite on the app are also added to your favorites list on SportsRecruits. Keep in mind, student-athletes will not know if you have favorited their profile.
Why EventBeacon?
EventBeacon provides a superior event experience for both coaches and event administrators alike, while also empowering student-athletes to take control of their recruiting experience. With access to all relevant student-athlete recruiting information in the app, coaches are able to efficiently and effectively evaluate players on-site. Similarly, event administrators are able to utilize the software to generate a coaches book in seconds, while also being able to make any roster or event changes immediately visible to coaches. The more efficient the coach's experience, the more exposure for athletes, and the more exposure for athletes, the more successful an event. Available in the app store today!
Download in the Google Play Store
Download in the Apple App Store