EventBeacon On Demand is a virtual evaluation tool for college coaches to watch game film after events. EventBeacon On Demand is powered by the SportsRecruits Platform. Coaches can check into a game and see the full rosters of both teams competing to evaluate student-athletes from their computer. Event Directors can upload their events game film directly to EventBeacon On Demand using the EB Admin System. This will make your event footage accessible by every college coach in the country.
How to Upload Game Video to EventBeacon On Demand
Event directors & staff can upload the game video files to EBOD via the Admin System:
Login to the EventBeacon Admin System

Choose the event from the event listings

Navigate to the "Schedule" tab

Find the game for which you want to upload a video

Upload a new game video file

Click the "upload video" next to the game

Select "Standard Capture" or "Panoramic Capture"

Select the corresponding MOV or MP4 video file from your computer

Click "choose for upload"

Repeat this process for each of the games on the schedule. You can upload multiple video files simultaneously. You don't need to wait for one upload to finish before starting the next.




Publish the video to EventBeacon On Demand by t

oggling the "Publish Video to EventBeacon On Demand" to Green.

This toggle will only appear once at least one video has been uploaded to the event.


While the upload is finalizing, you may navigate to other parts of the Admin System but do not close the tab of your browser or navigate to a different website. Doing so will interrupt the video upload.
How Do I Share The Video with College Coaches?
Game film on EventBeacon On Demand is free for all college coaches to watch. To share the video with a specific group of college coaches, first make sure the video is published to EBOD.

Then simply send them the link to EventBeacon On Demand. After logging in, each coach will be able to choose your event from the event listings and watch any of the game videos.
Link to EBOD: https://sportsrecruits.com/eb_on_demand
Can athletes & their families access the game video I upload to EBOD?
Game film on EventBeacon On Demand is accessible to every college coach in the country. However, uploading game video to EBOD does not make the video accessible to athletes or their families.
The two team rosters for each game are linked to the video. Any athletes on either team will recieve a video view notification when a college coach watches one of their team's games on EventBeacon On Demand. The athletes will not be able to view or download the game videos. The game videos will not be posted to their SportsRecruits profiles.
How Does EventBeacon On Demand Work?
Whether you were at an event and want to watch a game again or could not attend an event in the first place, EventBeacon provides you the opportunity to watch and evaluate players from the comfort of your home or office.
Our side by side rosters give you the chance to see any player information you may need to evaluate a player, along with full access to their full athlete profiles, which are fully accessible in the EventBeacon app.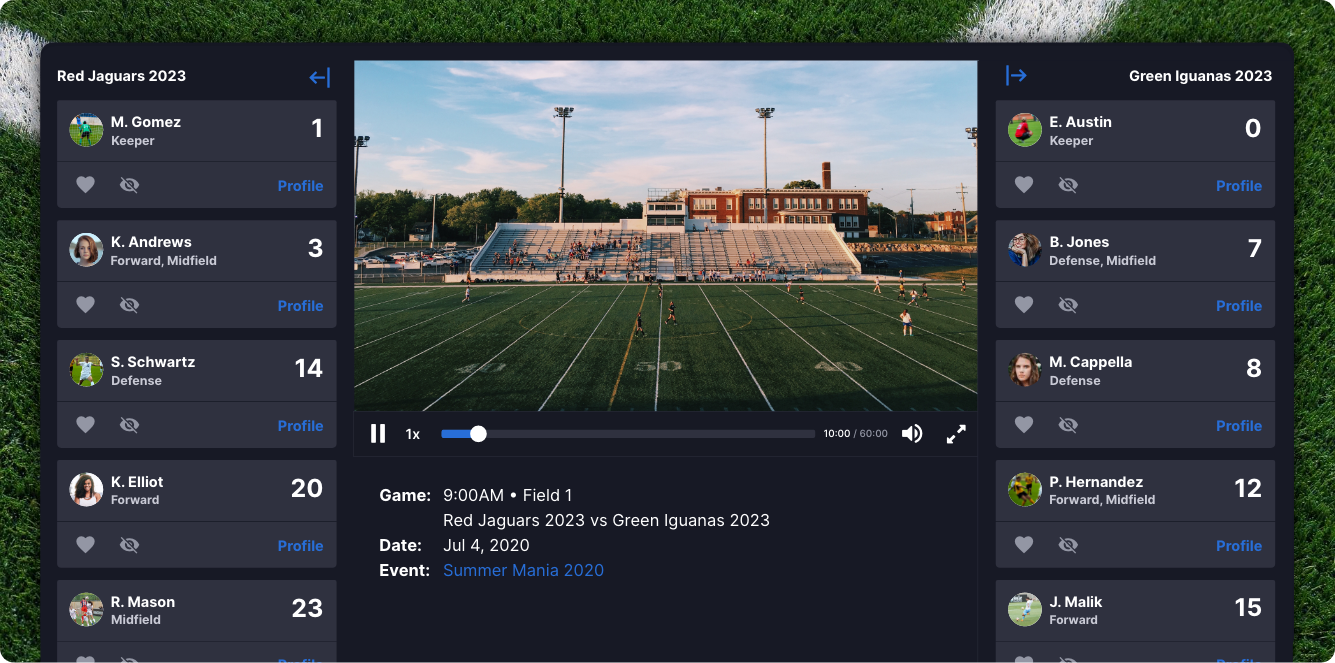 Why EventBeacon?
EventBeacon's suite of tools provides a superior recruiting experience for both coaches and event administrators alike, while empowering student-athletes to take control of their recruiting experience. The EventBeacon app grants coaches access to all relevant student-athlete recruiting information for enhanced on-site evaluation, while EventBeacon On Demand is a video tool built directly into the SportsRecruits platform that offers coaches the ability to watch and evaluate game footage from the comfort of their own home or office. With access to thousands of games, coaches have the ability to evaluate more athletes, more efficiently. EventBeacon is free to use for all college coaches.