The EventBeacon app allows college coaches to easily evaluate athletes while at events right from their smartphone or tablet. As a coach, you can export evaluated athlete information from EventBeacon to be added right to your college CRM with a simple export.
Once you have evaluated your target athletes, you will have the option to export your player evaluations and favorited athletes, which will then be emailed to you in a .csv file. To do this, follow these steps:
Click into the event you are looking to export athletes from

Click the three white dots in the top right corner of the screen

Choose "Export Favorited or Evaluated Athletes"

And then you will be asked to verify your email by clicking "Send Email"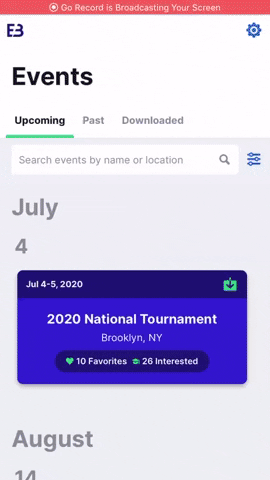 Please Note: You can only export the athlete information, rating, and notes from athletes you evaluated or favorited. If you did not evaluate or favorite any athletes in the event, you will not receive an export file.
What information is included in an export file?
Your exported file will contain the following player information:
Contact Information (Name, Email, Phone, City/State, High School, SportsRecruits Profile URL)

Coach Evaluations & Notes

Athletic Stats

Academic Stats
How do I open the exported file as a spreadsheet?
When you open the file that you downloaded from your email for most users this file will open in your spreadsheet software by default (Numbers or Excel). If it opens in a text file then you can open it using your preferred spreadsheet software by:
Find the file on your computer

Right-click the file

Choose "Open With" and then click your preferred spreadsheet software
If you do not have a spreadsheet software you can always import the file into Google Sheets to view in spreadsheet format. Here is a help article on how to do this on Google Sheets.
Why would I need to export my data?
EventBeacon gives you the option to neatly export player data, by sending the export directly to your email address. This allows you to have all of your data organized in one location. This neat export file will allow you to easily upload it into the recruiting management CRM of choice.
Why EventBeacon?
EventBeacon provides a superior event experience for both coaches and event administrators alike, while also empowering student-athletes to take control of their recruiting experience. With access to all relevant student-athlete recruiting information in the app, coaches are able to efficiently and effectively evaluate players on-site. Similarly, event administrators are able to utilize the software to generate a coaches book in seconds, while also being able to make any roster or event changes immediately visible to coaches. The more efficient the coach's experience, the more exposure for athletes, and the more exposure for athletes, the more successful an event. Available in the app store today!
Download in the Google Play Store
Download in the Apple App Store