The EventBeacon Admin System allows Event Administrators to import, organize and manage rosters for their events. After the initial roster import, athletes are linked to the event via their existing SportsRecruits profile or one is created for them. EventBeacon is powered by the data that lives in the SportsRecruits platform.
This article will detail what happens after you have imported rosters for your event.
After the Initial Import
After the initial import, if a student-athletes information matches a user already in our system, their profiles will be linked. This means that the player name, email, and graduation year are all identical and the student-athlete already had a SportsRecruits player profile set up.
If the information provided in the import does not match a user in our system, a free player profile will be made for that individual.
All players will be linked to your event so that is shows them as attending your event on their SportsRecruits profile. Once they are properly rostered in EventBeacon there will be a blue "EventBeacon Event" badge next to your event on their profile page under "Events" as shown below: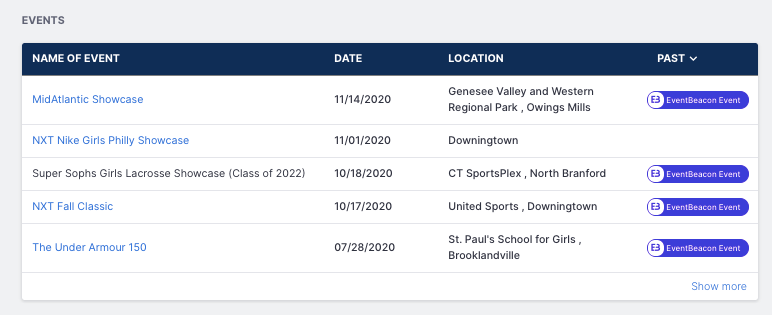 Athletes Setting Up Their Profile
SportsRecruits will take care of instructing your athletes on how to access their profile. You do not need to take any action to prompt your student-athletes to fill out their information. SportsRecruits will take care of all communication to ensure that the student-athletes have the necessary information filled out on their profile for the EventBeacon App and the coaches book.
What Do Athletes Have Access To?
A free player profile will be created for all athletes if they do not yet have one. A free player profile grants each athlete access to:
Video Library and Tools (like our Highlight Reel Editor) - you are able to add as many videos as you want, as well as create highlight reels to be published right to your profile

Webinars
If this is the student-athletes first time on the platform and first EventBeacon Event, they will be set up with a free SportsRecruits profile. This free profile will grant them full access to the platform which includes all the above features. Student-athletes with free profiles have the option to upgrade to a pro account for access to additional features such as our messaging system. For more information on free vs. pro accounts click here.
Why EventBeacon?
EventBeacon provides a superior event experience for both coaches and event administrators alike, while empowering student-athletes to take control of their recruiting experience. With access to all relevant student-athlete recruiting information in the app, coaches are able to efficiently and effectively evaluate players on-site. Similarly, event administrators are able to utilize the software to generate a coaches book in seconds, while also being able to make any roster or event changes immediately visible to coaches. The more efficient the coach's experience, the more exposure for athletes, and the more exposure for athletes, the more successful an event.